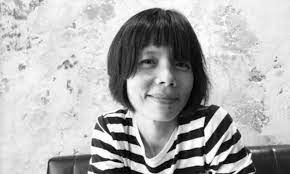 Back to Authors
Bei Lynn
林⼩杯
Bei Lynn enjoys exploring the creative realm with images and words. Her picture books present a delightful fusion of fantasy and reality. She relishes in uncovering the magic hidden amongst ordinary things, such as the blossoming of a flower or a hatchling breaking out of an egg.
Among Bei Lynn's most notable publications are To Be A Fish, FeiFei and Curly, and Kata Kata Kata.

Her works have been recognized by various awards and honors, including Hsin-Yi Children Literature Award, China Times Best Children's Book of the Year, Taipei Public Library Best Children's Book, and the Best Chinese Children's Picture Book of Feng Zikai Chinese Children's Book Award. Though not as bouncy as the frog character Bei Lynn herself has created, She hopes that the pen in her hand would never stop dashing across pages with the same exuberance even as she ages.