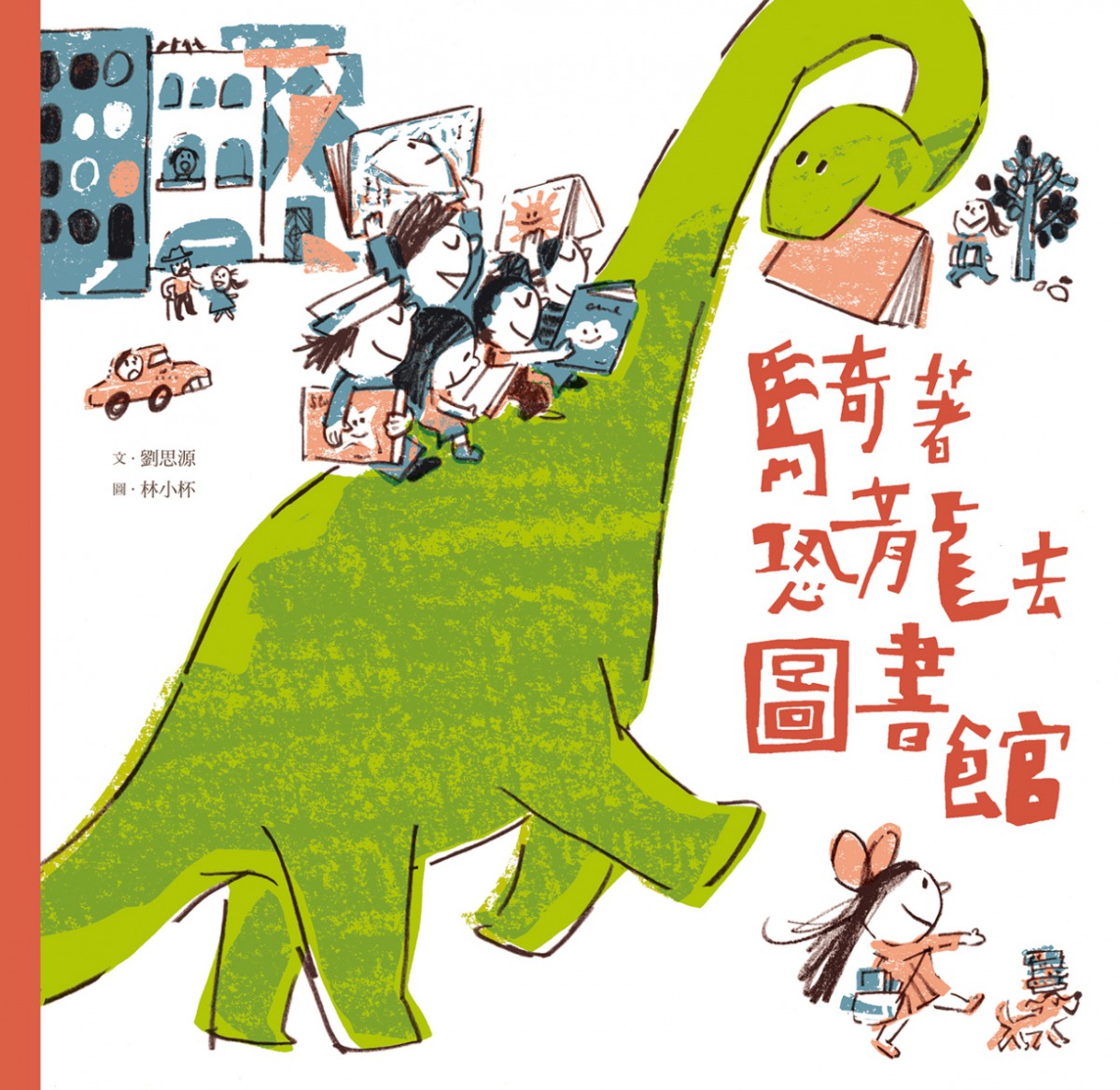 GOING TO THE LIBRARY BY DINOSAUR
騎著恐龍去圖書館
Category : Picture Books
ISBN:9789579380591
Pages : 32
Publication : Pace Books , Jun. 3 2020
Publication : Hardcover
Overview
Rights sold: World English, French, Simplified Chinese, Korean, Thai, Slovak, Japanese
"A heart-warming, humorous read. Readers will instantly fall in love with this likeable (slightly goofy) brontosaurus - the juxtaposition of him and the quiet setting of the library is ridiculously delightful "-- The Children's Book Council of Australia
Leilong is a helpful Dinosaur. When Mimi, Coco, and Feifei want to catch up the story time in the library in town, he takes them to the library. But he is a playful and large dinosaur, too. He is pulled off by the policeman because he can't help but join the car race. When they finally arrives, he find himself is too big to enter the library and he doesn't have an id card! While poor Leilong waiting outside, he hears the sound at the top floor of the building and realizes that Mimi, Coco, Feifei and other kids are there to listen to the story! The storyteller agrees to allow Leilong joins but the only condition is that he should behave quiet.

However, when the story comes to the climax, he can't resist to yell out loud! His movement alerts the chief librarian who then asks him to leave. All the children are disappointed and leave sadly together with Leilong. Storyteller tells the librarian that Leilong staying there is only because he loves the stories. After the chief librarian knows the truth, he immediately call back Leilong. This time, he is offered a new assignment: being the library bus!

Although Leilong cannot go in the library, he can bring the books outside and share the books with more people!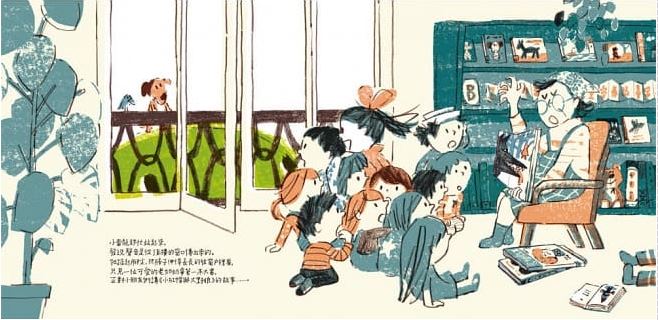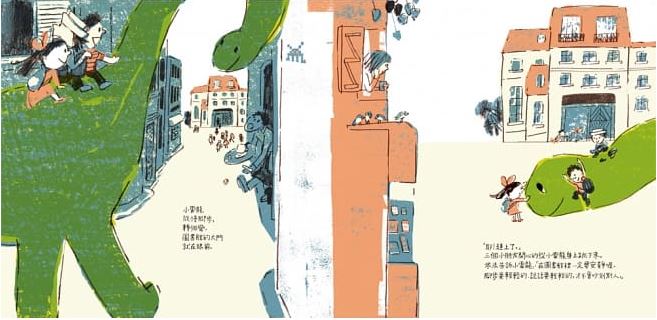 Author(s)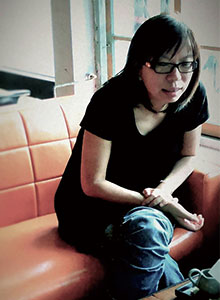 Editor by profession, reader and writer by necessity, Julia Liu lives for language and storytelling. She has served as an editor of children's fiction at several of Taiwan's biggest and most prestigious publishers, and has published picture books, illustrated biographies on Einstein and Archimedes and a collection of fairy tales. Many of her works won the domestic awards and licensed to China, Japan, Korea, US, France, Turkey and Russia.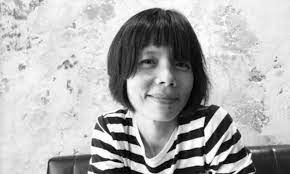 Bei Lynn enjoys exploring the creative realm with images and words. Her picture books present a delightful fusion of fantasy and reality. She relishes in uncovering the magic hidden amongst ordinary things, such as the blossoming of a flower or a hatchling breaking out of an egg.
Among Bei Lynn's most notable publications are To Be A Fish, FeiFei and Curly, and Kata Kata Kata.

Her works have been recognized by various awards and honors, including Hsin-Yi Children Literature Award, China Times Best Children's Book of the Year, Taipei Public Library Best Children's Book, and the Best Chinese Children's Picture Book of Feng Zikai Chinese Children's Book Award. Though not as bouncy as the frog character Bei Lynn herself has created, She hopes that the pen in her hand would never stop dashing across pages with the same exuberance even as she ages.
Praises
"Text and illustrations are perfectly matched here. Via Wang's smooth translation from Chinese, Liu employs simple, direct third-person narration, enhanced by intriguing dialogue and winning characters. Lynn's intricate cartoons provide scope and setting and much of the fun as well as thought-provoking details. "—Kirkus Reviews
"Leilong is a cheerful, bright-green standout among bustling cityscapes and quiet interiors with dark line art and crayon-like smears of rose and dusty blue. " —Foreword Reviews
"The illustrations are cartoon-like and full of detail which invites time to be spent looking at all the different people depicted on each page. Many people and animals can be spotted reacting to the strange vision of a Brontosaurus transporting children and books around a busy city. The changing, very human emotions of Leilong are beautifully depicted as he moves from delighted expectation to confusion on his rejection to contentment and happiness on his inclusion and acceptance.
A sweet story with fun illustrations!"
—ReadPlus
"I love children's books about libraries, and this offering written and illustrated in Taiwan was a real treat...This picture book is a celebration of libraries and storytelling in general and manages to show how children can be brought together and yet transported by stories. I also enjoyed seeing Leilong's desire to learn more about himself and other dinosaurs by reading dinosaur books.
Leilong the Library Bus by Julia Liu and Bei Lynn is recommended for readers aged 3 years and above and the observant reader will find much to enjoy in the background of the illustrations."
—Carpe Librum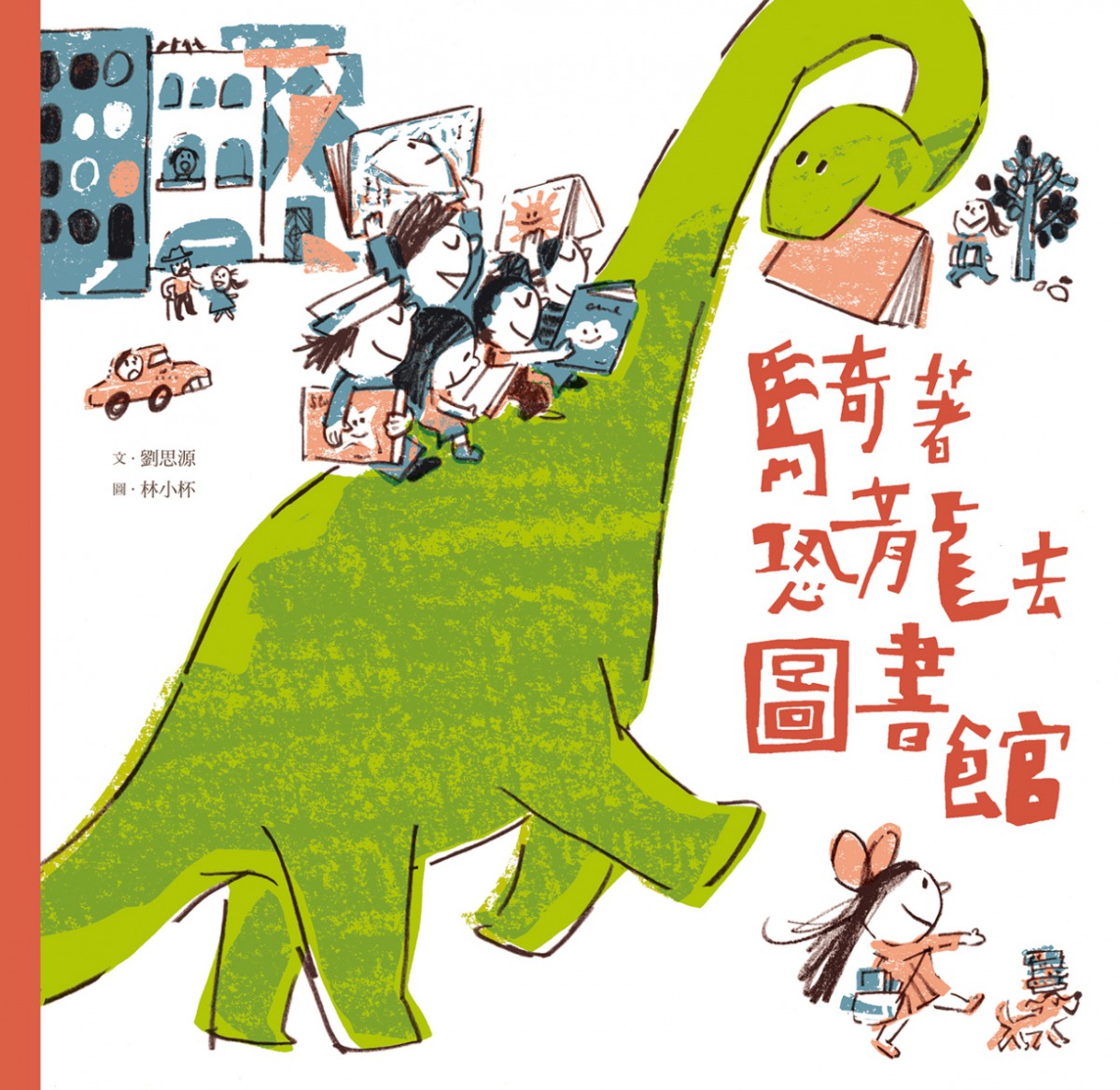 GOING TO THE LIBRARY BY DINOSAUR
騎著恐龍去圖書館