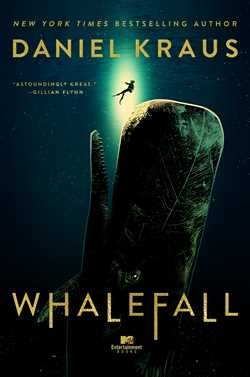 Daniel Kraus (丹尼爾.克勞斯)
Whalefall
鯨落
類別 : 驚悚懸疑
ISBN:978-1665918169
頁數 : 256
出版 : MTV Books, 2023 年 8 月 8 日
版本 : 精裝版
內容介紹
★ 如果有一天,你不只親眼看見了大王烏賊和抹香鯨的決鬥,你還參與其中?

傑.加德納(Jay Gardiner)做了個愚蠢至極的決定——跑到緊臨太平洋的修道院沙灘(Monastery Beach),尋找父親沉入海岸的遺骸。不過在傑看來,這是唯一一個,能讓他、母親和姊妹們放下父親之死的方法。
起初潛水作業非常順利,然而巨型的烏賊倏地竄出,置傑於危險之境,更糟的是,後方緊隨一隻正在覓食的抹香鯨。巨型烏賊觸手緊緊纏繞著恐懼的傑,最終一起落入抹香鯨的口中。他先掉進食道,然後彈到抹香鯨三個胃的其中一個。傑迅速推算出氧氣筒只能再撐兩個小時……他必須於兩小時內逃離這隻鯨魚的腹部,這簡直是天方夜譚。

這本小說以現在式記述鯨魚內臟發生的故事,以倒敘的方式重建傑與父親重要的回憶。整部故事既細緻又宏偉,有著扎實的科學基礎,帶來一次又一次的顫慄,不斷敲擊讀者的心臟。《鯨落》講述著一個關於早已放棄生活的年輕人,不斷在鯨魚體內尋找生存理由的故事。

p.s. (剛好孟穎最近才偶然習得大王烏賊和抹香鯨會對戰的知識,沒想到竟然收到了國外以這個題材為發想的小說,許多描述這些對戰的影片,都是3D模擬,鮮少有人能真正看過這兩種生物的深海決鬥。大王烏賊最長可以到13公尺以上!光是想到這世界竟然存在這麼巨大的無脊椎生物,就讓人覺得不可思議。猶如《火星救援》遇上《127小時》一般,期待作者如何用嚴謹的科學語言將這難得的深海奇觀用文字帶到讀者的視角,並與主角對於生活與生存的茫然串連在一起。真的是很有趣的發想!)
作者介紹
《紐約時報》暢銷作家。他曾和喬治.A.羅梅羅(George A. Romero)共寫廣受讚譽的《活死人》(暫譯,原書名為The Living Dead),與吉勒摩.戴托羅(Guillermo del Toro)合著改編獲得奧斯卡獎電影「水底情深」的小說,除此之外,兩人也曾共同寫出改編為網飛影集的《巨怪獵人》(Trollhunters)。克勞斯的《西布倫.芬奇的生與死》(暫譯,原書名為The Death and Life of Zebulon Finch)獲選《娛樂周刊》(Entertainment Weekly)年度十大書籍,他的首部漫畫《秋》(暫譯,原書名為The Autumnal)是2020年最受讚賞的漫畫之一。克勞斯曾獲「抄學員獎」(Scribe Award),並以《無賴》和《斯考勒》(暫譯,原書名分別為Rotters與Scowler)獲得兩屆「奧德賽獎」(Odyssey award)。他的書也選入美國青少年圖書館協會(Library Guild)選集、青年圖書館協會(YALSA)年輕人優良虛構讀物和「柏蘭.史杜克」(Bram Stoker)決選等等。
書評
Library Journal - starred review:
Kraus, coauthor of The Shape of Water with Guillermo del Toro, presents a nerve-wracking tale of survival in Monterey, CA. Jay is a young scuba diver who has a contentious history with his father, a local legend and maritime master. Feeling crushed under the weight of expectation and disappointment, Jay performs one last dive to prove himself. When he's swallowed by a sperm whale, with only one hour before his scuba tanks runs out of oxygen, he'll have to draw upon everything he's ever learned from his father and the ocean to get free. The novel conveys a great respect for nature, especially for whales and the ethereal beauty and ferocious dangers of the ocean. The scientific and biological accuracy enhances the disturbing realism of what it would actually be like to be swallowed by a whale. Jay's plight is viscerally intense and claustrophobic, even as he grapples with real and raw emotions that stem from remorse and a need for reconciliation.
VERDICT This hard sci-fi thriller is full of cinematic and wild suspense and would be great for fans of Andy Weir, although the tone is far more austere.
Booklist - starred review:
Prolific, best-selling Kraus presents a moving character study disguised as a riveting, cinematic survival thriller. Jay is a high-school senior dealing not only with the loss of his local-hero and diving-legend father, Mitt, but also his unresolved anger with their complicated relationship. In an attempt to bring some peace to his mother and sisters, Jay attempts a dangerous solo dive that is cut short when he is swallowed by a whale. The story is told from Jay's point of view in short, alternating chapters set in the present, denoted by how much air is left in his tank, and the past, mostly between 2015 and 2021, allowing readers to immediately fall into the story. The pacing is relentless, the awe astounding, and the tension palpably constricting, even as Kraus takes time to provide necessary details both scientific and visceral. However, it is Jay's constant growth throughout the story that makes this novel shine, allowing its beauty to emerge and leave its mark on all who encounter it. An easy sell to fans of ocean horror like Pressure (2016), by Brian Keene, or harrowing survival stories like 127 Hours (2004), by Aron Ralston, but also to those who love the wonder, disgust, and heartfelt emotions found in Eric LaRocca's work.
"The rise and fall of Carlos Ghosn is a modern-day Greek tragedy—the story of a brilliant and industrious man whose greed and hubris took him from the top of the global auto industry to Interpol's most-wanted list. In their deeply reported book, Kostov and McLain tell this story with nuance and empathy. . . . A fascinating read." — John Carreyrou, bestselling author of Bad Blood
"A hard-hitting exposé that dispels forever the myth of the superstar CEO." — Tom Wright, New York Times bestselling coauthor of Billion Dollar Whale
"An explosive exposé of a disgraced automotive-industry titan…This exciting, vividly detailed book explores a variety of relevant topics, including globalization, international business ethics, and how excessive wealth and fame have the potential to corrupt even the shrewdest businessperson. First-rate reporting on corporate savvy and greed and the ultimate cinematic escape." — Kirkus Reviews, STARRED review
"[BOUNDLESS is] a fascinating and fast-moving account of one of the auto industry's most successful executives, his alleged crimes, and his eventual escape from authorities…The minute I poked my nose into Nick Kostov and Sean McLain's Boundless, I was hooked…Actions like [Carlos Ghosn's] need to be exposed and examined. Nick Kostov and Sean McLain do an excellent job of that." — Porchlight
"Kostov and McLain, both Wall Street Journal reporters, have unearthed lots of new details, and they tell that part of the story with all the verve and tension of a good spy novel." — The Washington Post