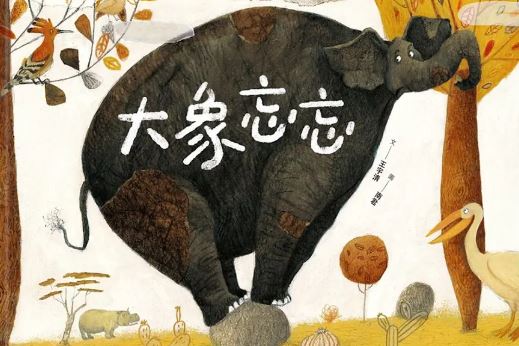 Elephant Forgetful
⼤象忘忘
Category : Picture Books
ISBN:9786263051850
Pages : 50
Publication : CommonWealth Education Media and Publishing Co., Ltd., May. 31 2022
Publication : Hardcover
Overview
A delicate story about the process of steering away from trauma, of healing, and of a journey exploring what it means to stand up on our own and find our place again.

Forgetful is an elephant that comes from faraway, one that completely forgets about his past. Ever since his arrival, he has been behaving strangely, saying strange things, but around him, his elephant friends keep reminding him: "Perhaps it's better that you've forgotten everything." But then, Forgetful's dreams and body don't seem to have forgotten anything. He is haunted by nightmares,
and traces of his past seem to carve wounds inside of him. What happened to Forgetful, during all this time? What can his elephant friends do to show support and accompany him?

With deft drawings rich in colors, Elephant Forgetful is a warm story about coming out of trauma, the process of healing, and what it means to gain support on the long journey toward cure. The story is a
reminder for us to learn the importance of companies and care, so as to remember who we truly are all over again.
Author(s)
A young, award-winning author of children's literature. His short prose can be found in a variety of printed forms.
As one of the anticipated artists in Taiwan, his illustrations are often instilled with vintage-dreaming atmosphere. He is good at using brush to delicately depict a fantasy story. In his works, you can always find a trace of antique atmosphere and playful whimsy. He has participated in
major international exhibitions and cooperated with many brands, including National Taiwan Museum of Fine Arts. The scenes and characters in his pen always cross the virtual and real scenes and full of fun and imaginations.