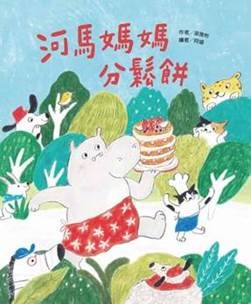 Mother Hippo Shares the Muffins
河馬媽媽分鬆餅
Category : Picture Books
ISBN:9789863384052
Pages : 36
Publication : The Eastern Publishing Co., Ltd., Aug. 12 2021
Publication : Hardcover
Overview
Rights sold: Korean
★ The best picture book for teaching children to share and discussing the idea of fairness.
Mother Hippo makes some delicious muffins and wants to share with the animals in the forest.
In order to be fair, she sets the rule: "Please queue up. First come first, served. " But some of the animals can naturally run fast! Leopards, antelopes, and zebras line up four times in a row. Other animals feel it is so unfair. So Mother Hippo adds a rule on the next day: "Please queue up. First come, first served. Each animal can only queue once." But the rooster takes one more muffin for his wife. Mother rabbit takes 12 for her children…Other animals can't get any muffin and start to complain.
In order to be fair, Mother Hippo adds a new rule again: "Please queue up. First come, first served. Each animal can only queue once. Each family can have one piece only." But is it really fair? The bear family cannot share enough but the ant family can't finish even one muffin.
The Mother Hippo doesn't give up. On the fourth day, she comes up with a new rule: "Please queue up. First come, first served. Each animal can only queue once. Each family can have one piece only. The size of the muffin depends on the body size."
The animals are still not satisfied. The slug said to the snail: "Take off your shell, your body is not as big as mine!" The snake said: "My share is just too small, I can swallow a cow!" All the animals shouted, "It's not fair!" They even blamed Mother Hippo for making too few muffins!
Mother Hippo gets angry! " I simply want to share and now I'm the one is blamed? Is it fair? I don't want to share anymore."
Mother Hippo stops making muffins. All the animals started to miss Mother Hippo's muffins.
Until one day, a piggy can't stand the craving and goes to Mother Hippo's home. He sees the new announcement in front of the door and then enter the house. Shortly, he walks out with a delicious muffin! Could it be that Mother Hippo has changed her mind? Or does she think of a better idea to share?

An entertaining and thought-provoking picture book. Through vivid and lovely animal characters, the author explores fairness and injustice with a surprise ending. Everyone learns how to make their own muffins!

Author(s)
Bachelor of Education from the University of Hong Kong and Master of Arts and Cultural Studies from the Chinese University of Hong Kong. She was a middle school teacher and now is a Chinese lecturer in college. She has written Chinese textbooks and created picture books for several publishing houses. Won the second place in the "Children's Story Category" of the "Chinese Literature Creation Award" of the Hong Kong Leisure and Cultural Services Department. The picture book works include "Perfect Voice", "I Want to Raise Whales", "Little Rabbit in Tsim Sha Tsui", "Ten Monsters Go to a Picnic", "Reluctant to Give Up the Quilt", "Kitten Qiqi is Afraid of Admitting Mistake", "I Wanna Thank you", "Little Hedgehog's Treasure Hunt".
Illustrator who likes to find inspiration from life, cats, dogs and nature. She is good at drawing works with colored pencils and crayons, sometimes humorous, sometimes healing. In 2020, the character "A Miao Market" is officially created, and the signature of cool action is welcomed by the majority of cat lovers.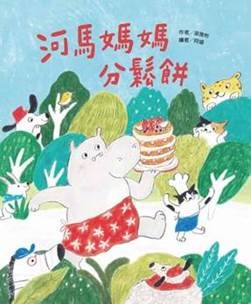 Mother Hippo Shares the Muffins
河馬媽媽分鬆餅