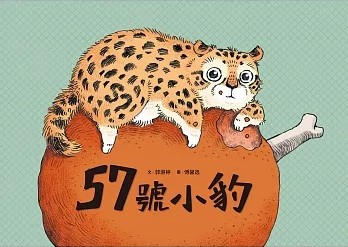 Cheetah 57
57號小豹
Category : Picture Books
ISBN:9789575036935
Pages : 30
Publication : CommonWealth Education Media and Publishing, Oct. 29 2020
Publication : Hardcover
Overview
Cheetah 57 wants so badly to be as muscular as all the other cheetahs in the zoo. "If you don't look fierce enough, you would be killed to make bags or rugs," say his strong companions. Scared and ashamed, Cheetah 57 digs himself a hole to hide in, but he never expects just how far it will take him.
Cheetah 57 lives in a zoo. He always feels bad because he looks so different from all the other cheetahs. They warn him, "Humans like cheetahs that look fierce. If you don't look that way, they'll turn you into a scarf.…"
Afraid of seeming different, Cheetah 57 tries his best to imitate others but it is all in vain. He decides to dig a hole to hide in, but he goes too far, and the hole ends up leading him out of the zoo.
Everyone wants to fit in, but our differences will always stand in the way. This picture book explores how it feels to be different, and how to embrace your differences and make the best of them. The cartoonish lines and neutral colors of the illustrations invite young readers to engage their imaginations in this story of a chubby little cheetah who breaks stereotypes.
Size: 18.5 x 26 cm


Author(s)
Tina Kuo (郭瀞婷) is the author of 12 titles for children, including the middle-grade fiction series Ding Xiaofei's Diary and the YA novel The Signal Detective Agency. She also works as a screenwriter for children's television. Her dream is to create works that allow children to truly enjoy the wonders of childhood.
Fu Hsinyi (傅新逸) an illustrator from Southern Taiwan. Her humorous and vivid illustration style makes it easy for readers to immerse themselves in the stories.